---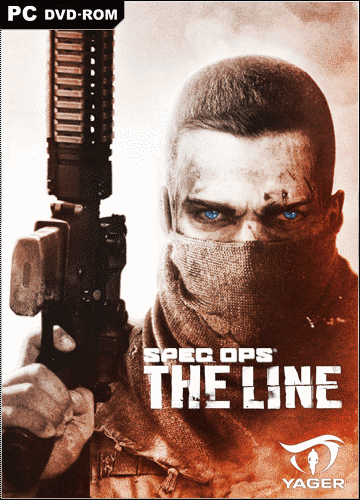 Release Date: June 26, 2012
Genre : Action, Adventure, Shooter, Third-person
Developer : YAGER
Publisher : 2K Games, Missing Link Games
Platform : PC
Publication type : RePack
Interface language : Russian / English / MULTi7
Voice language : Russian / English / MULTi6
Version: v1.0.6890.0
Tablet : Embedded (CODEX / PLAZA)
SYSTEM REQUIREMENTS:
Operating system : Win XP, 7, 8.1, 10
Processor: Intel Core 2 Duo @ 2Ghz / AMD Athlon 64 X2 or better
RAM : 2 GB;
Video card : NVIDIA GeForce 8600 / ATI Radeon HD 2600XT or better
Sound Card : Sound device compatible with DirectX® 9
Free space on hard disk : 8 GB
GAME DESCRIPTION:
A Third-Person modern military Shooter designed to challenge players' morality by putting them in the middle of unspeakable situations.
Download Version
Download Only
Spec Ops: The Line is a new original title from 2K Games that features provocative and gripping Third-Person modern military Shooter gameplay designed to challenge players' morality by putting them in the middle of unspeakable situations where unimaginable choices affecting human life must be made. Features include, a gripping, storyline reminiscent of Apocalypse Now and Heart of Darkness but set in a ruined Dubai, tactical squad-based Delta Force gameplay throughout a horizontally and vertically oriented world, devastating sandstorms which can be used in combat, a variety of multiplayer modes and maps, and deep support featuring two factions.
It's been 6 months since Dubai was wiped off the map by a cataclysmic sandstorm. Thousands of lives were lost, including those of American soldiers sent to evacuate the city. Today, the city lies buried under sand, the world's most opulent ruin. Now, a mysterious radio signal is picked-up from Dubai, and a Delta Recon Team is sent to infiltrate the city. Their mission is simple: Locate survivors and radio for Evac. What they find is a city in the grip of war. To save Dubai, they'll have to find the man at the heart of its madness—Col. John Konrad.
Gameplay
Spec Ops: The Line is an action-packed Third-Person Shooter that delivers heart pounding physically close combat through a squad-based play mechanic. Players lead a team of three characters, Captain Martin Walker, Lieutenant Adams and Sergeant Lugo. Each character has his own distinct personality and specialized skills, and the mature story they each play a role in explores the dark side of war in a realistic way, in which there are no good outcomes, only hard choices. As missions are completed more advanced weapons and equipment are made available. In addition, the desert environment of Dubai is brought into the game in a unique way with stunning visuals, and dynamic sandstorms that actively effect level designs, and which can be used to help and hinder progress. The vertical interiors of Dubai high rise buildings also provide tactical advantages and risks that can used be by players. Multiplayer campaigns bring new modes and unusual situations and environments to expand the single player experience.
Key Features
** Reimagining military shooters with unexpected plot twists.
** Third-person gameplay conveys new sensations of emotion and brutality in combat.
** Lead a powerful Delta squad in a dangerous and unpredictable war zone.
** Cross the line in an adult story about the dark sides of war, where there is no ray of hope, only tough decisions with dire consequences.
** The unique surroundings of the city of Dubai amazes the imagination and transports players to a huge world, executed on a stunning visual level.
** The Sands of Dubai provides an unprecedented gaming experience with sand raids and battles during crushing sandstorms.
** Exciting multiplayer mode with extensive character customization and multiple classes of fighters.
Repack Features
Based on Spec.Ops.The.Line.MULTi7-PLAZA Iso Release
Game version: v1.0.6890.0
DLCs:
– Fubar Pack
– Coop Chalenge Mode
Language : English, French, German, Italian, Spanish, Russian, Japanese
Audio : English, French, German, Italian, Spanish, Russian
You can change language in language.changer.exe (Spec Ops The Line\Binaries\Win32)
Repack Size : 3.6 GB
Final Size : 8 GB
Lossless repack , Nothing removed OR re-encoded
Install Time : 2 – 5 mins
Repack By DODI]
PZ SEED , DONT HIT & RUN
Download Via Torrent | pepofile.com
Direct Download | upload-4ever.com
Activator for Windows N Office AIO
Downloader, Extractor, Rufus, N ISO
Spec Ops: The Line (v1.0.6890.0 + All DLCs + MULTi7) – [DODI Repack]
---